Testimonials
"I want you to know how wonderful I think you and C & N Footlockers are. We received our footlocker exactly when you said we would. I am amazed at how quickly it was done. There are two things that I am truly impressed with, the first is the craftsmanship of the footlocker, it is well built, very sturdy and very handsome (hope this doesn't sound corny), and the second is that is was made, with pride, in the USA.
Our only son is going off to Ithaca College in less than 2 weeks and I have already contacted several of his close friend's parents to let them know about C & N Footlockers. Again, thank you C & N Footlockers."
Penny M.
"… I wanted to let someone at C&N know what a terrific experience we've had with one of your trunks, and one of the people who work at C&N.
My daughter went to camp this past Saturday morning - very early. Last Monday, after seeing everything that she needed to bring with her, and knowing how quickly she had to get settled, we decided she needed a locking trunk. I did hours of research on-line and driving around to local luggage and department stores, and finally settled on two possibilities. The problem was that it was now Tuesday afternoon, and I needed the trunk on Friday.
I called two companies for prices, and was lucky enough to speak with Mark. I can't tell you how wonderful he was to deal with - especially in comparison to the treatment I received from your competitor. First, Mark gave me some wonderful advice on which trunk to purchase - he knows your products. Second, he was able to quote me everything that I needed immediately - even the expedited shipping fees to Scottsdale, Arizona on one of your largest trunks. Third, he didn't make me feel an idiot for waiting until the last minute. He is so nice. I'd rather give my business to someone that I actually like.
When the wheels arrived on Thursday - the day before the trunk, I was worried and called Mark. Not only did he follow up with me that day, he also followed the package all the way to my door, and called UPS to confirm that it was with the driver - and then called me to let me know. The trunk arrived before noon - exactly when we needed it. And I knew it was coming because Mark kept me posted.
The trunk itself is fabulous. While waiting for the trunk, I piled everything that my daughter planned to take into a gigantic heap. My husband took one look at the pile and bet me that the trunk wouldn't hold it all. It did - and more! The wheels were a dream - easy to install and operate. Even the color was perfect. We are thrilled with the purchase. My daughter likes it so much that it will go into her bedroom when camp is finished, providing lots of much-needed storage.
I buy things on-line and over the phone all the time. My experience with your company was among the best in customer service I have ever had. Please thank Mark for me - his advice was right on, and the trunk exceeded my expectations.
I have and will recommend C&N to anyone who will listen. Thanks again for reminding me that customer service really does exist out there.
Sincerely,
Tracy G.
Scottsdale, AZ

"Extra large size is a great plus. Very pleased with color selection."
San Diego, CA

"I searched for the best deal for a footlocker, which is required for entering freshmen who will be in the Corps of Cadets at Texas A&M University. I wanted it be rugged enough to last a minimum of 4 years while in college. I chose the #1105 and it came today. With proper care it will last me a life time! As a member of the Corps of Cadets at at Texas A&M University it is the perfect size. Best service and value to be found!!!! Thank you!"
Tyler C.
Company K-2 Corps of Cadets
Texas A&M University
""Completely satisfied"does not begin to describe how I feel about your product. The quality is so far beyond anything else I've ever seen, and is absolutely phenomenal for the price. My daughter (a high school senior, getting very anxious to leave for college) was absolutely delighted, and really tickled when she realized that she could decoupage all kinds of stuff on to the exterior and remove it at some future date without destroying the trunk itself, as would be the case with the paper-veneered versions that the stores carry. Thanks for offering such a terrific product at a great price. I've been looking for a quality footlocker like this for over a month now, and no one in Seattle carries anything close to yours."
Nola, Seattle, WA.
"Thank you so much!!! I've never had an order handled this nicely by any company. I'll certainly be recommending you to friends."
Melinda R.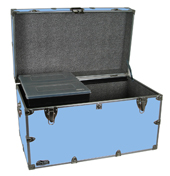 "I received the trunk yesterday and wanted to say I'm very impressed by the quality. You should have seen the piece of ….. I almost bought at a luggage shop in Chinatown, NY for the same price. It was made of crap and had no tray. I appreciate your hard work. THANKS!!"
Will Opio, New York, NY.
"Just wanted you to know that we received the trunk yesterday. Thank you so much! You have made one little girl very happy!!!"
Becky H.
Shelby,NC

Purchased a footlocker (black) last year for our son going to Indiana University. Just purchased my second footlocker (pink) to send with our daughter going off to college in Massachusetts. This is the best Company I have dealt with in a long time - the service is superb - from placing the order to when the 35lb. footlocker arrives at your door in perfect condition - the quality of the footlockers are unsurpassed!
HoHoKus, NJ

We just took the kids to camp yesterday with their new trunks! They are very HAPPY CAMPERS!!! The trunks are really nice, we are very pleased with the quality and they look really cool too!!
Thank you!!
Patti B.
Austin, TX

Last week I ordered a footlocker from your company. I had been looking for a quality footlocker for quite some time and was losing faith that would be able to find one. When I ordered my footlocker from you, frankly, I thought I was taking a chance and may not be happy with it.
Yesterday I received your footlocker and I am so pleased with the overall quality, the look, the color, the hardware and everything! It is by far the best quality footlocker I have been able to find for my needs.
Also, your telephone customer service person was very nice and friendly. What Service! It also arrived on time and in perfect condition. Thank you so much!! I will recommend you to my friends and if I'm ever in the market for a footlocker again, I will order it from you."
M. Roberts, Etiwanda, CA.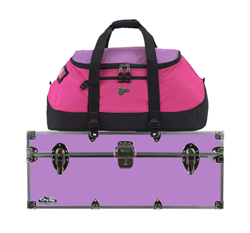 "I was pleased to find this footlocker in the whimsical lilac color. I like the fact that this brand of footlocker has a lined interior and upper tray. The colored exterior material seems more abrasion resistant than the trunks I used in college which lacked the lining and the tray. I was able to fit 3 banker boxes' worth of memorabilia into this one trunk, saving lots of space while babyproofing my keepsake items from a curious toddler."
Mountain View, CA

"Very well constructed and strong for college use."
Houston, TX

"My daughter is very happy with her footlocker. I was apprehensive about placing an order on-line. Thank you for quickly returning my phone call about shipping information. The footlocker was at the college when she arrived."
Kathryn Renner, Salem, VA.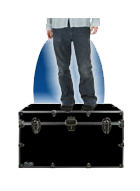 "Exactly what I was looking for, a large storage locker for items at the hunting camp. The locker is roomy and sturdy. I'm expecting it to last for many years. A storage locker of this type and quality is very hard to find. Thanks"
Johnstown, PA
"Great way to pack a lot of stuff when moving in and out of the dorm."
N. Ft. Myers, FL

"Just to let you know that I received the trunk I ordered and I am thrilled with the quality, fit and finish of this trunk. I looked long and hard, and even ordered and returned trunks, before I found your website. I'm sure my daughter will love her new trunk and she'll be the envy of her new college friends. Thank you."
Thomas and Gail Herron, Idaho Falls, ID
"This is a great storage device. I bought the medium footlocker without wheels to hold all my desktop items when I needed to clear off my desk. It easily fits all my computer peripherals (laptop, mouse, printer, office supplies, etc.). I highly recommend this product...it's very sturdy and versatile. I am thinking about putting a cushion on top to convert it into extra seating for guests."
Atlanta, GA

"….I ordered a footlocker for my Grand daughter for her first out-of-town summer camp(Rockbrooke). Every aspect of the transaction, from placing the order to delivery--and close inspection--was among the BEST experiences of my eighty years. The product was precisely as represented and of such outstanding quality that we are confidently anticipating many years of service from it. Incidentally, I am well-known to be extraordinarily difficult to please, but you have accomplished the nearly impossible."
Philip A. Poole, Tallahassee, FL.
"...just wanted to commend Angela on her professionalism and great attitude. Customer service is so key and she was excellent. She was so nice to talk to and do business with - I just wish everyone I had to deal with was so good!"
Kari G.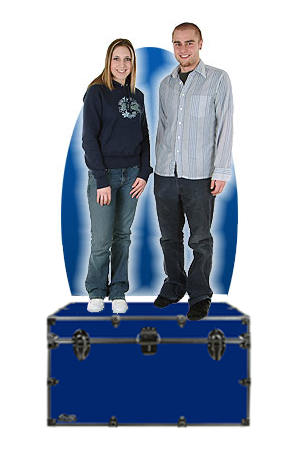 "….I just wanted to let your company know that I received the footlocker I ordered for my daughter. We are very happy with it. The look, the construction of it, and the tray is great. It is in her dorm room as we speak. I plan to order one for each of my other two children for Birthday gifts. I had searched around for footlockers and you had the best construction and the best price. I will definitely spread the word to my friends about your products. Thanks to all who worked on my daughter's footlocker! I know she'll get many years of use out of it."
Darlene, Bristol, CT.
"We needed a camp trunk for the summer. My child loved the different color choices. The durability is very good. A lot of bang for the buck on this basic camp trunk. No regrets at all."
Vienna, VA

" …after much searching on the web, I found your website. I think you have the best trunk for the value on the market. I received a brochure from my daughter's camp in the Spring from another manufacturer. I felt their trunks were expensive, for what you get, and they do not have wheels available... Thank you!"
R. O'Neill
"Well made and very durable. I would recommend it to anyone."
Wheatley Heights, NY
"I must say that I am very impressed with your warranty and customer service. I experienced some damage to my footlocker after shipping it to Kuwait for overseas duty. My issue was resolved promptly and beyond my expectations. These are truly well made footlockers and have withstood a lot of moves. I highly recommend them!"
-Arifjan, Kuwait